Taka Sanada

age

3

gender

Male

birth

Summer

size

Large

eye color

Orange

first color

Black

second color

Brown

third color

Russet

fourth color

None

alignment

Chaotic Good

constellation

skills

TOKENS

blessings

IC Achievements

soar

status

birth

01-01-1994 (25 years old)

time

08-17-2019 at 03:42 PM

registration

09-01-2018

characters

threads
Appearance
details
THE PROTECTOR
tall / muscular / healthy / well-trained fighter

➛ Traumatic scars, clearly caused by gnawing teeth, wrap around his right hind leg; a gift from Lucent Deivaleonne in autumn, year 1.
➛ Remnants of a bite wound can be seen on his throat, a reminder of his obligation to Cairo Tiamat, given by Nassar Tiamat in autumn, year 1.
➛ His right shoulder bears a scar, inflicted by Triss Halloway in autumn, year 1.
Personality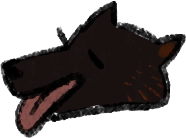 CURIOUS - AMIABLE - ADAPTABLE - DRIVEN
ABRASIVE - CYNICAL - DOMINATING - RECKLESS
Family
note: his name follows the typical East Asian "surname forename" order, therefore Sanada is his forename, and Taka his surname.
father:
Taka Seigen
mother:
Hana
1st child - Taka Kenshin
2nd child - Taka Sanada
3rd child - Taka Raiden
History
+ Sanada and his two brothers, Kenshin and Raiden, were born in the Hia region, to a particularly religious mother and an absent father.
+ Despite his mother's devout teachings, Sanada grew up straying from his family's religion. He did not feel the same devotion to it as his parents did. Therefore, in his mother's eyes, he was a disappointment; and perhaps cursed.